{Hexagon shaped thumbtacks will dress up any bulletin board and make perfect easy gifts}
A few weeks ago I headed to
Scrap
, a not for profit donation and resale center for crafty type items. I went with Aleisha from Britches n Boots and Sarah from Repeat Crafter Me and we found quite the collection of items!
Everything from paper, paint, frames, fabric scraps, pinecones, small containers, vintage music. Just about anything you could imagine and then some. (Like a bin full of empty round birth control pill dispensers??)
Anyway, one of the things I found was a bucket of tiles. As soon as I saw these little hexagon tiles I knew I wanted to make thumbtacks. You can find them in the tile section of a home improvement store. It was as easy as peeling a tile off from the mesh and gluing it to a tack with E6000.
Let the glue dry for several hours, or overnight, and then they're ready to use.
While I love the simplicity of the white, I wanted to add color to some of them too. Some got Gold Sharpie (because once you have one in your house, everything is a target :)
And...then...(now hold onto your wavy-edged-scissors)...
I put vinyl on them!!
So awesome, right?
I know you're going to ask about the pictures and designs on them, so here you go:
The bee and crown came from The Graphics Fairy
The patterned ones came from the really cool free dingbat font called Peoni
And for the initial, just use any font (I used Rockwell Extra Bold)
Each picture or letter was .75 inches at the largest point, and the patterns were cut at 1.25 inches square, to make sure there was plenty to cover the whole tile.
Cut the picture or pattern from the vinyl color you want and press it down onto the tile. For the patterns, trim off the overhang.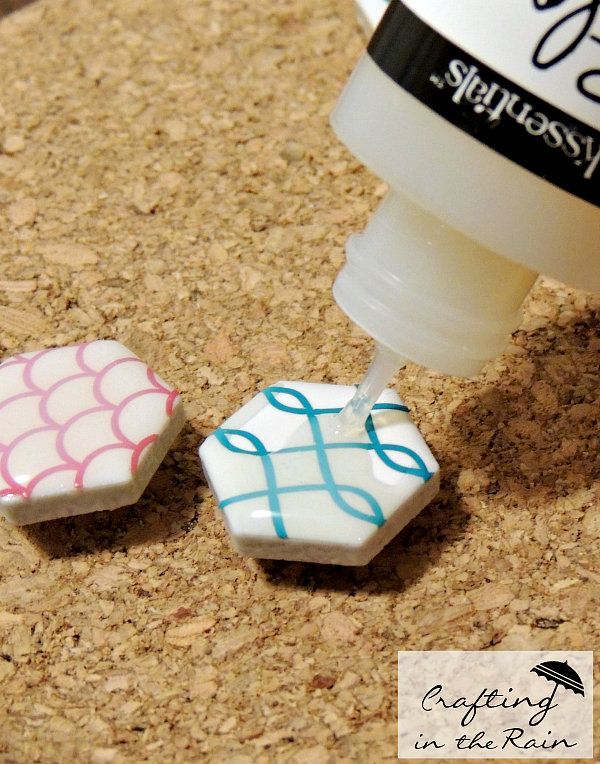 I went ahead and added a layer of Glossy Accents over these to make sure the edges wouldn't pull up in being used.
Do you like how they turned out? I'm a little smitten, and I hope you'll make some too!
some links may be affiliate