Hi everyone! I'm sure most of you are well into your Christmas prep and hopefully already enjoying a lot of fun activities with your family. We've sure been busy here!
For those featured this week...grab a button and wear it proudly. ;)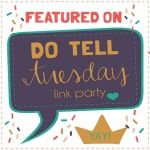 Be sure to grab or update it!
"
"